Back
DONATION OF A SMART CLASSROOM TO GOVERNMENT SCHOOL, SARDAR SAMAND
"The world is going digital and we need to start early to equip our children with skills to tap into the opportunities that the digital future will offer".
On
31st August 2019,
Government Higher Secondary School, Sardar Samand witnessed a grand ceremony of the inauguration of a newly constructed room (soon to be equipped with a smartboard, courtesy Extramarks Pvt. Ltd.) donated by His Highness Maharaja Hanwant Singh Charitable Trust.
The occasion was graced by the stellar presence of His Highness Maharaja Gaj Singhji Sahib, Her Highness Maharani Hemlata Rajye Sahiba, Yuvrani Gayatri Rajye Sahiba, Bhanwar Baisa and Bhanwar Sa.
This classroom is set up with an endeavour to provide ICT enabled instructions, to make education interesting, to help students of Std IX to XII in a better concept formation and understanding and develop innovative teaching methodology.
This was also a forum to raise awareness on gender issues and to bring out the topic of Menstruation out into the open and allow them to ask questions. The girls of Keru Hostel performed a Nukkad Natak to teach young girls and women about personal cleanliness, sanitation and safe disposal of Sanitary Napkins after use.
Sanitary Napkins 'Prayaas' manufactured by RKK's at 10, Hanwant Vihar were a big hit as every woman & young girl of Sardar Samand who had gathered in the school premises to attend the ceremony was presented a packet of 10 Sanitary Napkins free of cost to understand its importance and use by Her Highness Maharani Sahiba & Yuvrani Sahiba.
Mr Vikram Rajola, Ted Speaker and Founder of In-Deed Foundation delivered a pep talk addressing the assembled students in a bid to motivate them towards pursuing higher education and grabbing all opportunities in life to constantly learn and grow.  
Sarpanch of Sardar Samand, Shri Digvijay Singhji Rathore and the Principal of the Government Senior Secondary School, Shri Prahlad Kumar ji Raiger honoured His Highness by presenting him Rajasthani Turban and garland of flowers.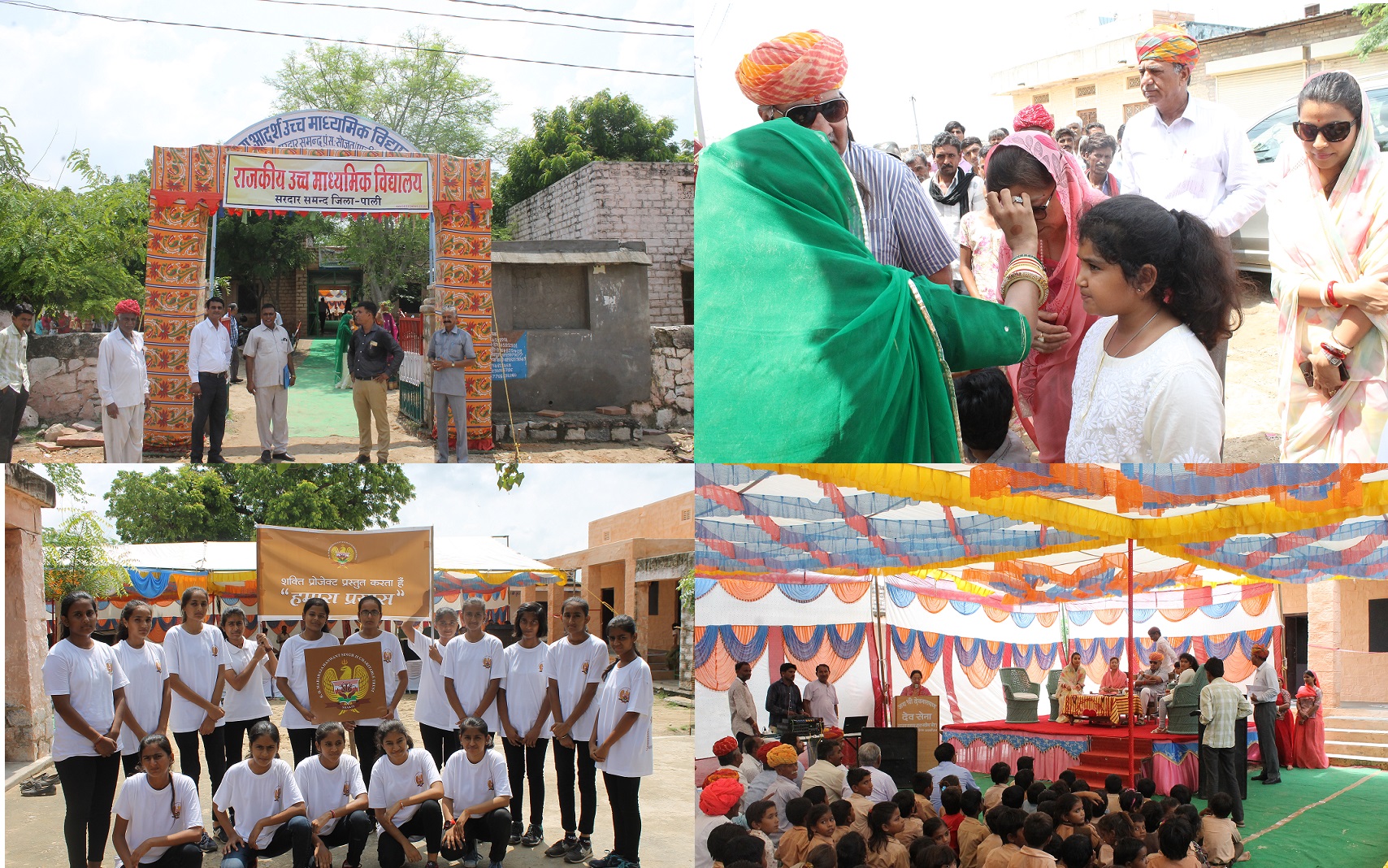 Back