Back
TWO ADORABLE LOOSERS - OUT OF THE BOX PRODUCTION
On
8th  April 2018,
the portals of RKK were honoured having the play 'Two Adorable Loosers' staged. The evening was totally set on fire by the magical and electrifying performance of the artists. The esteemed Guest of Honour for the evening was His Highness Maharaja Gaj Singhji. Everyone was thrilled and eager to watch that little kid now all grown up they saw as Ishan Awasthi in the big hit, 'Taare Zameen Par'. 'Two Adorable Loosers' starring Abhishek Pattnaik and Darsheel Safary projects an undiscussed problem in society – Inferiority Complex. It is a disease in our society where it exists in abundance. But an appalling fact is that it has been given birth by the society itself. It sees no age, no duration, no tangibility, still it exists as widespread as it had been and leads to a path of undesired negativity.
Right at the outset, an ungainly Statistics Professor, Jagannath Mahapatra aka Jolly from Odisha who is weak in English diction, wards off unruly students booing him for his poor pronunciation; followed by a college going Psychology student, Akshay who is weak in Statistics. The two awkward men are on the same line of inferiority complex and are thrown together by sheer circumstances. In an attempt to regain their lost confidence, they approach each other and make a pact. Jolly decides to give Akshay extra classes in Statistics; in return Akshay decides to help him correct his pronunciation in his speech for college's 25th year celebrations.
Most plays are written either for young kids or mature adults, leaving teenagers very little options to choose from. With 'Two Adorable Loosers', the capricious generation of audience had finally found a contemporary English comedy play they could relate to and enjoy. The writing, especially the dialogues are not clichéd, they are a breath of fresh air. The  execution of this story, the juxtaposing of scenes, the characters suddenly sharing a word or two with the audience, was fun to watch. In the beginning, Jolly comes across as an exasperating, authoritarian man, while Akshay seems timid and hesitant. But as the play progressed, the tender side of the Professor and a more audacious Akshay was seen, an achievement in a duration of two hours.
The play was successfully collaborated by the following team members - Mr Darsheel Safary as Akshay, Mr Abhishek Pattnaik as Professor Jolly, Mr Suketu Shah for Lights, Mr Hritik Sanghvi for Sound, Mr Ahan Nirban for stage, Mr Manish Kerekar for Make-up and Mr Anurag Khanna, the overall In-charge.  
The play was a blend of laughter and 120 minutes of delightful memories which will be remembered for forever.
On
9th April
, a live interaction of the inquisitive minds of RKK with Darsheel Safari, Anurag Khanna & Abhishek Pattnaik was interesting and enriching.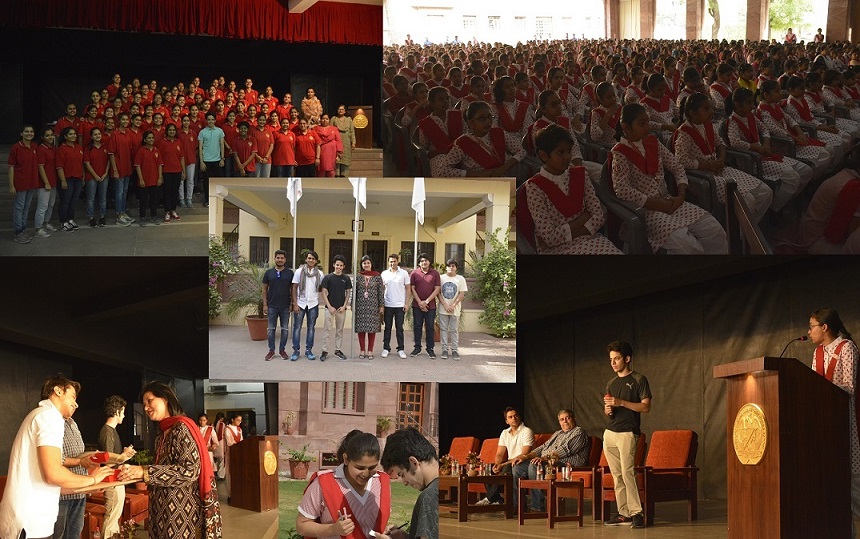 Back