Back
India has got a rich cultural past in almost every field. But, even after 70 years of Independence, India is still struggling to eradicate crimes against women and complete uproot them from the nation. Crimes and ill practices such as dowry killing, female foeticide, discrimination between a girl and boy child, depriving a girl child of her fundamental rights are still ruling the country.  In order to generate awareness in the society regarding saving girl child is highly important to strike a balance between both the genders.
The RKK family took a very massive and important responsibility on its soil and shoulders to fight female foeticide, celebrate the birth of a girl child and educate her.  Rajmata Krishna Kumari Girls' Public School supported 'Roshni' a joint venture of RKK and District Administration and conducted a program, 'Beti Bachao, Beti Padhao' in the school amphitheatre on 19th December 2017 in collaboration with District Administration and Women Empowerment, Government of Rajasthan.
The school band extended a ceremonial welcome on the Rajasthani Troupe, Slow March Tune and the most befitting Guard of Honour by two pilots to the Chief Guest, His Highness Maharaja Gaj Singhji and Guard of Honour, Dr Ravi Kumar Surpur, District Collector and District Magistrate.  A warm welcome was accorded to all the guests and dignitaries by the SchoolVice- Head Girl, Vedika Singhvi.
The ignited flame of knowledge, truth and understanding of Goddess Saraswati was invoked by kindling the lamp.
The Slide Show was indeed poignant and definitely gave some food for thought that dying to live, the struggle of girls for existence still continues. RKK proudly presented Nukad Natak, the most powerful medium to spread awareness, which depicted that the girl who makes the world bright, struggles to see the light.
The visionaries, His Highness Maharaja Gaj Singhji and Dr Ravi Kumar Surpur shared their vision with the audience on 'Beti Bachao, Beti Padhao', titled 'Roshni'.
Gripped in this 25th year of existence and excellence, multiple endeavors have been initiated and implemented by RKK to enhance each child's personality. One such endeavor had been Art Competitions, conducted by District Administration in RKK on 16th December 2017 and the Prize Winners were felicitated by Dr Ravi Kumar Surpur.
The following ambassadors for 'Beti Bachao, Beti Padhao' were present.
·        Smt Suryakanta Vyas, a Member of legislative Assembly.
·        Mrs Anushree Poonia, Pradhan of Panchayat Samiti of Mandor.
·        Dr Sonal Parihar, Mrs India Earth Classic 2017 and Mrs Best Personality, a renowned Gynecologist of Jodhpur.
·        Ms Vaidehi Singh Chouhan, Munsif Magistrate, Rajasthan High Court.
·        Ms Pooja Yadav, Indian Police Service Officer.
·        Mrs Nupur Bhati, Advocate, Rajasthan High Court.
·        Mrs Pramila Acharya, Advocate, Rajasthan High Court.
·        Smt Sushma Chouhan, a Writer, Poet and a popular name in the field of Hindi Literature.
·        Dr Ranjana Desai, Professor and Superintendent, Umaid Hospital, Jodhpur. 
·        Dr Rajshree Behra, Professor in Pathology, Mahatma Gandhi Hospital, Jodhpur.
·        Mrs Manju Verma, Principal, Jalori Gate Girls' School, Jodhpur.
·        Mrs Aasha Bothra, Secretary, Meera Sansthan, Jodhpur
·        Ms Sneha Jain, a National Player.
·        Ms Rajni, School Principal
·        Ms Mahua, Creative Head & Expert in Theater and Dance, Rajmata Krishna Kumari Girls' Public School.
·        Mrs Monika Karal, renowned Astrologer and Yoga Expert.
·        Mrs Sarla Dadhich, District Coordinator, PC & PNDT.
·        Ms Savi, Radio Jockey, 94.3 My FM
The ambassadors were adorned with ceremonial sash to embrace them into the folds of 'Beti Bachao, Beti Padhao' Abhiyan. Light of hope and righteousness was passed to all the representatives of the entire campaign.  Swearing of the Oath was led by the District Collector. Ms Sunidhi Joshi, a Student Council Member proposed her Vote of Thanks.
Beti Aai Hai Devi Ka Roop Lekar… the Grand Finale delivered this powerful message, loud and clear. RKK brought together different stake holders for an accelerated impact as a little step leads to giant strides and a humble beginning leads to mega achievements.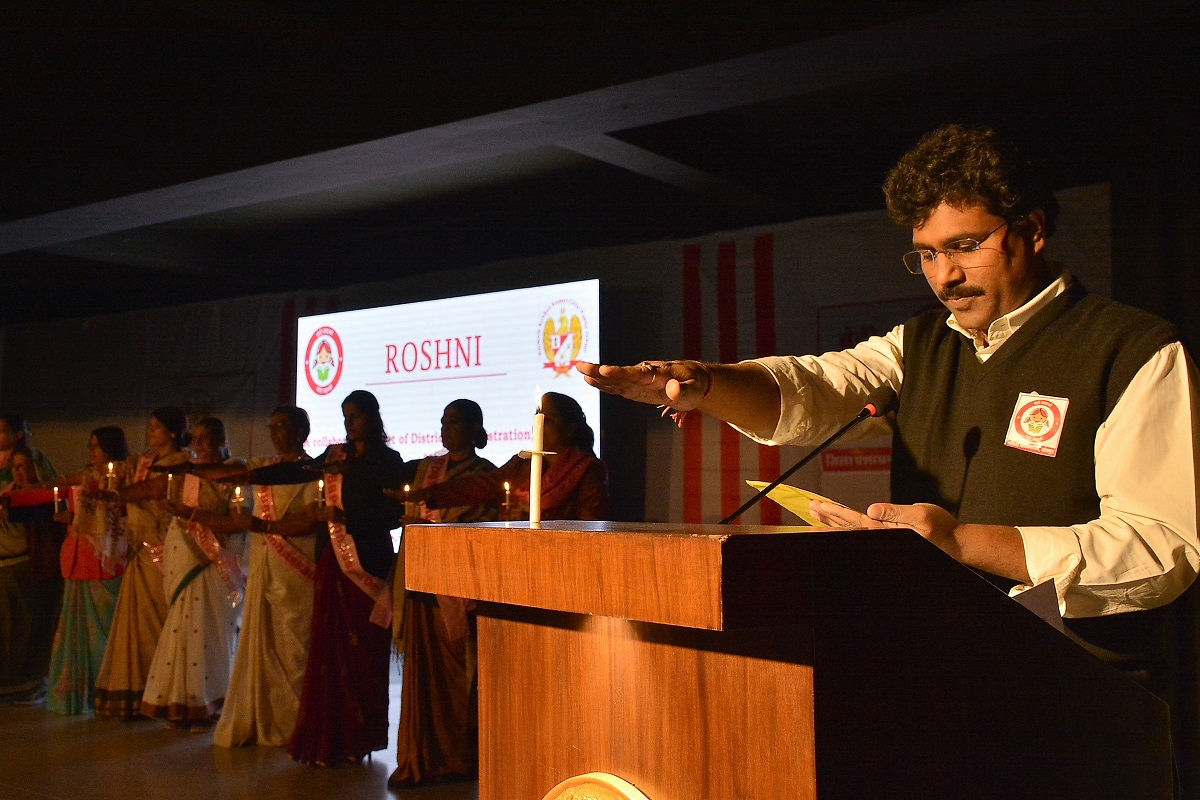 Back