Back
68TH REPUBLIC DAY CELEBRATION :
RKK's Bagpiper Band felt extremely privileged to be a part of the State Government Republic Day Celebration at the Umaid Stadium. Performing on the day when the National Flag flies high and lightens up the spirit of patriotism among the citizen is the joy no one can outline.
School band comprising 33 dynamic girls marched with unmatched zeal, confidence and enthusiasm. In return, they received thunderous round of applause and appreciation from one and all. Credit goes to their extremely capable instructor, Mr Ram Gopal Choudhary, Teacher Incharges, Mrs Dakshita Singh, Mr. Manjeet Singh Rathore. It was a moment of great pride for RKK family to be considered perfect for this stupendous honour.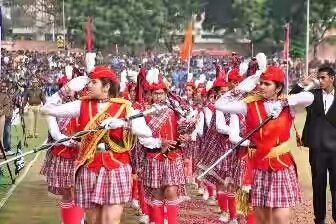 Back