Back
On
1st May 2017,
goodbye,
"Addio"
was bid to Arianna Viola, a student from Italy for the
session 2016-17
on Inter Cultural Exchange Program in association with AFS, India. This host student had come to RKK to experience & explore the vast diversity of Indian cultural & participate in this year's academic program. She became the subject of teacher's vision, target of teacher's thoughts, compliment of teachers' endeavours and an all-time favourite of Juniors & Seniors. 
It was
10th July 2016
when she entered the portals of RKK with a bag full of excitement & a quarter with nervousness. For 10 months – a session to explore totally different culture, spicy food, new language & a completely different environment.
Her stay in Jodhpur has been a combination of memorable days. She was hosted by RKK for week days & by Mr Arun Kashyap's family for weekends. For different occasions & vacation, she was hosted by many students of the school and had a cherished time with them at Jaipur, Udaipur, Sri Ganganagar, Ahmedabad, Hanumangarh, Jaisalmer & Mumbai. There is a saying in international exchange community, "Exchange is not a year in one's life, but a life in a year" and for Arianna, returning to her home country, Italy, the year ends, but her life begins with the beginning of a new chapter. RKK wishes Arianna Viola 'a very happy and successful life ahead'.
"The song is ended but the melody lingers on". Second successful hosting by RKK in association with her legendary partner AFS, India comes to an end for this session. Looking forward to welcome in July our new host student,
Elena De Novellis
from
Italy
for the new
session 2017-18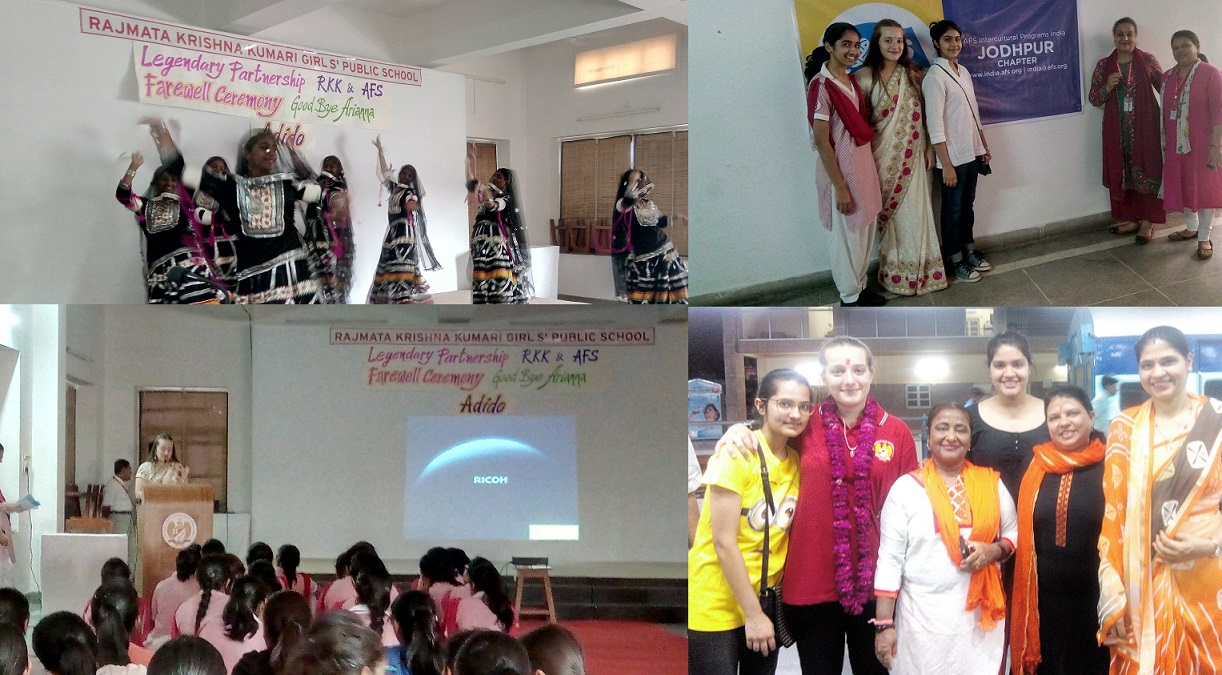 Back