Back
RKK'S LEADERS – SURGING AHEAD
The strength of indomitable human will and the power of courage with conviction are the pivot of human existence. Today's youth are at the center of absolute strength, fearlessness and compassion. These attributes of true leaders were celebrated at Rajmata Krishna Kumar Girl's Public School as the student leaders were felicitated at the
Investiture Ceremony 2017-18
on
8th April 2017
. The Chief Guest of the Ceremony was Mr. Anil Paliwal, IG, BSF, Rajasthan Frontiers. The student council members are the bastions, the torch bearers who uphold the values of the school and are selected after much deliberation by an experienced and an impartial panel of teachers. Entering the realm of student council is a matter of great pride and honour. It is a feat attained after years of consistent hard work, channelized energies and perseverance.
The Student Council included following 8 houseless members whose responsibility would be to ascertain smooth and efficient functioning of the 4 houses :
1.     
School Head Girl -
Supriya Bhandari
2.     
School Vice Head Girl -
Vedika Singhvi
3.     
School Sports Captain-
Priyanka Ranawat
4.     
School Vice Sports Captain -
Poorvie Choudhary
5.     
Hostel Prefect-
Twarita Chauhan
6.     
Hostel Coordinator-
Rohini Singh Sodha
7.     
Student Council Secretary-
Shagun Kapoor
8.     
School Cultural Secretary-
Bhavya Gehlot
In order to facilitate smooth functioning and healthy competitive spirit among children, the student community is divided into 4 houses & the following Captains and the Vice-Captains were introduced with great pride and glory.
1.     
Captain Sri Ambika House-
Avya Dhariwal
2.     
Vice-Captain Sri Ambika House -
Saumya Jain
3.     
Captain Sri Bhawani House -
Ridhi Goyal
4.     
Vice-Captain Sri Bhawani House -
Sunidhi Joshi
5.     
Captain Sri Durga House -
Risha Lodha
6.     
Vice-Captain Sri Durga House -
Shivambika Bhati
7.     
Captain Sri Shakti House -
Sakshi Chuggani
8.     
Vice-Captain Sri Shakti House -
Karishma Maheshwari
After seeing these student leaders with great aplomb and candor, it was time for the Oath Ceremony. Mrs Neera Singh, Principal, Rajmata Krishna Kumari Girls' Public School administered the oath of office to the 8 houseless members to ensure parity and smooth functioning of the 4 houses.
House Mistresses are the wheel and the helm of affairs in any house. The 4 house mistresses,  Mrs Alka Mamgain of Sri Ambika House, Ms Monalisa Panwar of Sri Bhawani House, Ms Avnesh Sharma of Sri Durga House and Mrs Manju Singh of Sri Shakti House were invited upon stage to swear in the Captain and the Vice-Captain of their respective houses.
The Chief Guest, Mr. Anil Paliwal presented the badges and sashes to the members of the Council accompanied by the Principal, Mrs Neera Singh, Principal. The Chief Guest inspired the audience with his powerful speech that focused on the importance of strong value and belief systems with intrepid fighting spirit and undaunted courage. The investiture ceremony drew closer to culmination as the School Head Girl, Supriya Bhandari, led the student community into the school pledge. The program culminated with the School Anthem and ceremonial photographs while the audience moved for Hi-Tea.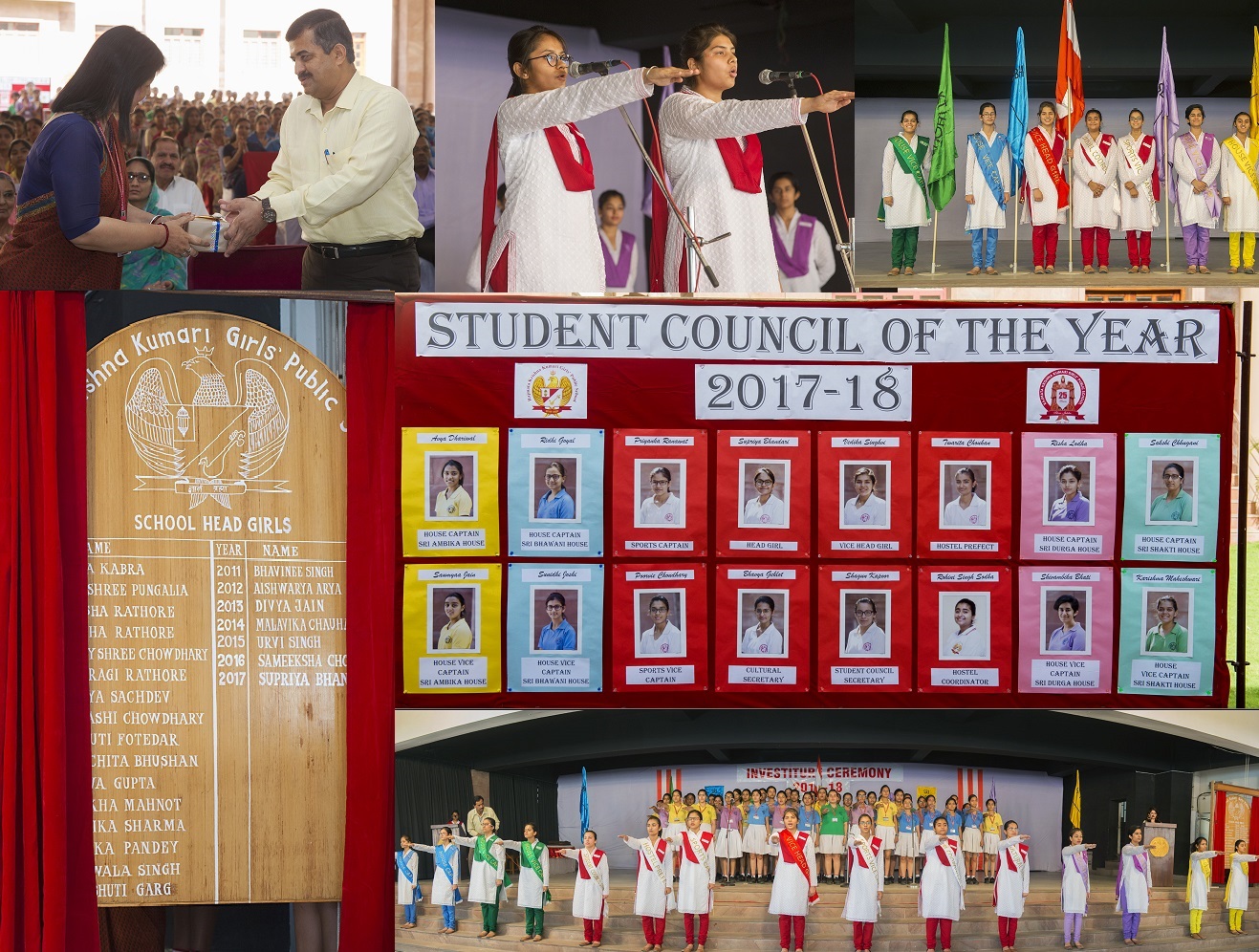 Back