Back
A team of 8 students with Ms Awanesh Sharma represented RKK in the 8th Invitational Debates & Quiz hosted by The Daly College, Indore from
14th to 16th April 2017
. Other renowned schools of India like Mayo College Girls' School, Ajmer, Maharani Gayatri Devi School, Jaipur, Scindia Fort, Gwalior, Yadvindra Public School, Mohali, Rashtriya Indian Military College, Dehradun, Welham Boys' School, Dehradun, The Punjab Public School, Nabha, Vidya Devi Jindal School, Hisar, The Emerald Heights International School, Indore, Sanskar Valley School, Bhopal and Daly College, Indore participated in these prestigious events.
The draw of lots for the D.F. Jack Memorial English Debate were conducted an evening prior to the competition. The topics for pool A and pool B were "Virtual currency is a welcome change in a cashless world" and "Women make better politicians than men".  RKK's team for English Debate comprised Kanika Singh, Nishi Jain and Sakshi Verma.
The topics for Preliminary and Final Round of the J.K. Kate Memorial Hindi Debate were "Bharat Mein Mahilayon Ki Stithi Majboot Hui Hai" and "Itihas Ki Mrityu Sunishchit Hai" RKK's team for Hindi Debate comprised Avnika Baid, Poorvie Choudhary and Parineeta Shekhawat.
The P.G. Miller Memorial Quiz was represented by Chhavi Lunia & Vidhu Lunia from RKK. The preliminary round was a questionnaire and the final round comprised Rapid Fire, Audio Visual and Buzzer Rounds.
The Emerald Heights International School, Indore lifted the Winning Trophy for the Quiz and The Daly College, Indore for the English & Hindi Debates.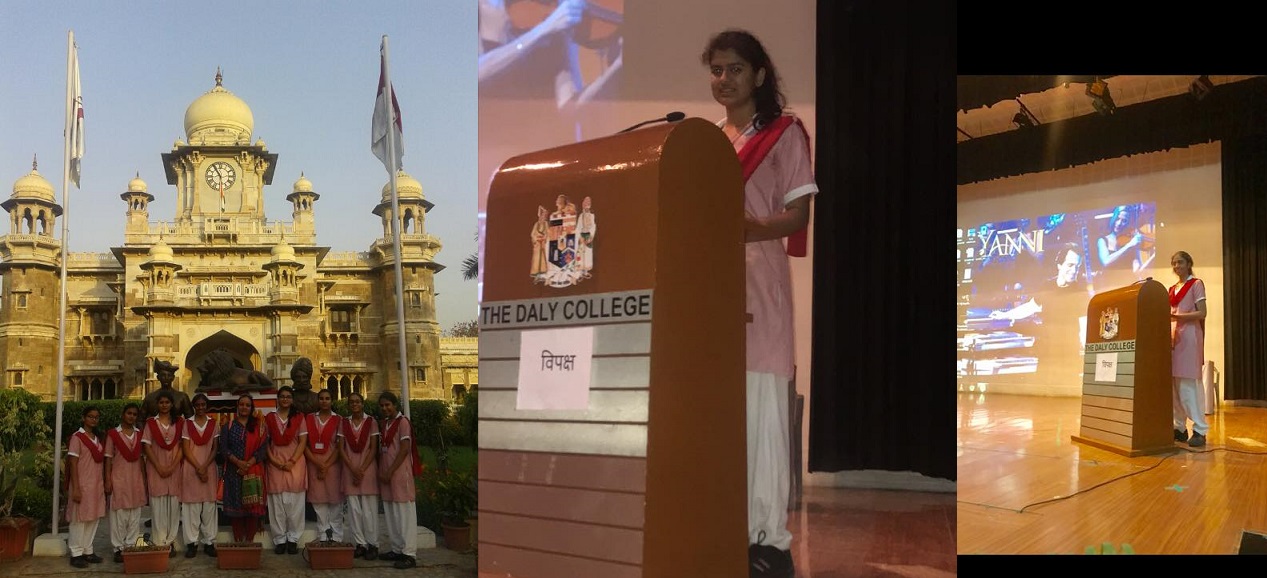 Back