Back
NIHIL DE NOBIS, SINE NOBIS - 'NOTHING ABOUT US WITHOUT US'
GLOBAL BROTHERHOOD :
Rajmata Krishna Kumari Girls' Public School, Jodhpur
successfully organized the
2nd Round Square Conference from 13th to 15th August 2015
.
175 delegates from 21 elite schools of South Asia & Gulf Region participated in the event themed on "Democracy". On the pleasant morning of 13th August, the Principal, Mrs. Neera Singh declared the formal opening of the Conference. The Chief Guest, Air Commodore SK Vidhate VM, Air Officer Commanding IAF Station , 32 Wg, AF, Jodhpur. Administrator, Brigadier Shakti Singh ji, Members of the Board of Governors, eminent citizens and dignitaries blessed the portals of RKK with their gracious presence. Renowned Advocates Mr. Rishabh Sancheti & Mr. Vikas Balia, the Keynote Speakers for the event, enlightened the delegates with their knowledge and expertise. Well – designed Barazza Sessions proved to be a great learning experience for the students. Visit to historical landmarks of Jodhpur, Mehrangarh Fort & Umaid Bhawan Palace, Mask-Making and 40X40 mass paintings in Art Workshop reflected pep and gusto amongst the participants. Mesmerizing Heritage walk, Robust Zumba, Flying Fox, Basket Ball match, Principal's Dinner & Jam Night projected a healthy team spirit, hearty companionship and gave the essential warmth & conviviality to every delegate. A salute to the tricolor and tribute to the freedom fighters was given with the flag hoisting, marking 69th Independence Day of India. Event was summed up with a brain buzzing 'Quiz on Democracy' and a grand Cultural Presentation from participating schools. 
The Chief Guest, His Highness Maharaja Gaj Singhji, Her Highness Maharani Hemlata Rajye Sahiba, Administrator, Brigadier Shakti Singhji, Members of the Board of Governors, eminent citizens and dignitaries graced the Closing Ceremony with their illuminating and stimulating presence. This prestigious forum displayed RKK's commitment towards excellence in education & Global brotherhood, brought together talented students from across the region for exchange of ideas and proved the fact that "The essence of a democratic system lies in the sharing of power and responsibility with others".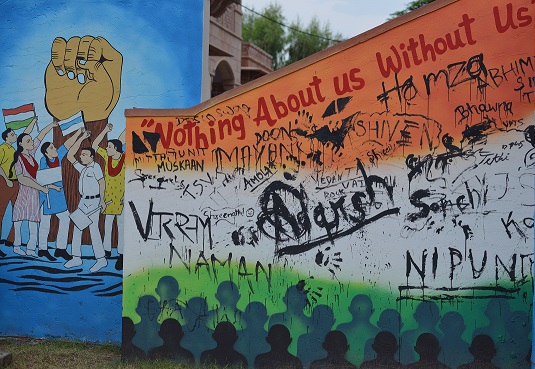 Back