Back
SMALL CONTRIBUTION, GREAT IMPACT
RKKGPS is a catalyst in social initiatives that works towards the needs of development. With multiple modes of partnerships and associations for the upliftment of not so fortunate', RKK has been always engaged in addressing the needs of vulnerable groups with community participation at all level. It has been RKK's one of the most sincere attempt to help special children of Navjyoti Mano Vikas by instilling the sparks of confidence in them and build a relationship of trust and hope with them in their journey to achieve economic independence and self-esteem. 
RKK ordered 1600 Rakhis skillfully handcrafted by these talented children for RKK'S Staff and Students priced at Rs 10. This unique venture, offering a cheque of Rs 16,000 as a token of love and care is another RKK's Silver Jubilee endeavour in association with Rotary Club Padmini, meant to bring into their world all those joys and activities which children of their age enjoy. 
'Giving is not just about making a donation. It is about making a difference'. 
There could be no other way to sensitize our young generation than to inspire them to participate actively and contribute in every possible way they could. To make our Silver Jubilee fiesta more remarkable, students of Class I to XII embarked on a journey of real service to 'Not So Fortunate' people. Children were asked to donate items which willingly they could offer to the ones who need them the most. Old Clothes, Towels, Napkins, Bed Sheets, Grocery, Stationery, Water Bottles, Tiffin Boxes, Footwear and other basic requirements of daily use were generously gifted to the children of Asha School, Love Kush Orphanage, Missionary of Charity and less privileged elderly people of Astha Old Age Home. Real happiness was experienced when a smile was seen on the faces of God gifted people. 
These endeavors of self-less service by RKKians will definitely bring a positive difference to our society.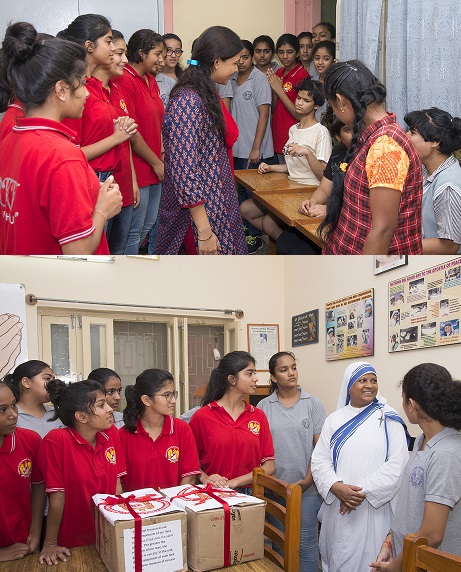 Back