Back
RS MUN AT THE SHRI RAM SCHOOL, ARAVALI
RKK's delegation comprising Akshi Gehlot, Shruti Parakh, Anshika Goyal, Risha Jindal, Harshita Vaishnav, Sneha Mirdha, Ayushi Malani and Avni Jain  with their escort teacher Ms Vrinda Bhansali attended the Round Square Model United Nations Conference (AMUN) scheduled from
25th to 27th  September 2017.
This was based on the RS IDEAL – Democracy, with the theme Vox Populi. Following Seven Committees formed the Agenda : The Joint Crisis Committee: The Cabinet of the President of the United States of America (based on crisis updates), The Joint Crisis Committee: The Politburo of the Union of Soviet Socialist Republics (based on crisis updates), Historic United Nations General Assembly - Agenda: Iran-Iraq War of 1980, The World Health Organization - Agenda: Measures to combat effects of Chemical and Biological warfare, The United Nations Security Council - Agenda: Crisis in the South China Sea, Commission on Narcotics and Drugs - Agenda: The Latin American Drug Crises with special emphasis on illicit drug trade and The Press Corps
Delegations from 8 schools namely Bangalore International School, Dhirubhai Ambani International School, Genesis Global School, K.C. Public School, RKKGPS, Shri Ram School-Aravali, The British School and The Emerald Heights International School engaged expressively in three action packed days. It was a colossal erudition experience for the students and they brought back memories that they shall cherish for long.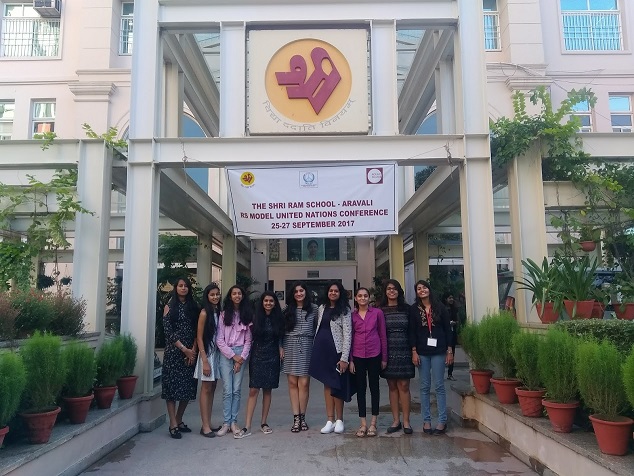 Back