Back
The journey of the delegation for WELMUN to be hosted by Welham Boys' School, Dehradun started on 26 July with 7 ecstatic delegates heading for a conference that would always be cherished. The conference started on 28th of July and was declared 'Open' by the Secretary General of WELMUN 2017 with 7 Committees being UNSC, UNHRC, CCC, AIPPM, General Assembly, NATO and ECOSOC. The topics discussed in these Committees were Indo-Pak conflict, the Babri Masjid case, the Gulf war to name a few which brought out the competitive potential in the students while coming up with resolutions and resolving conflicts.
The schools that participated were Indian High School Dubai, The Doon School Dehradun, The Lotus Valley International School Delhi and Rajmata Krishna Kumari Girls' Public School, Jodhpur and a visually impaired special school to name a few out of 24 schools. With many highlights to this event, may it be the night crisis of the General Assembly, the decision by the government of not building a Mosque in the land of Babri Masjid or the delegate dance were a chance to socialise with the delegates. The conference with this sort of heated debates and discussions came to an end on 28 of July which was declared 'Closed' by the Secretary General.
The team comprised Rashi Mathur, Anushree Agarwal, Shagun Kapoor, Shubhangi Malani, Lakshya Bohra , Tejasvi Dudi, Radhika Bhandari , Priyardarshini Newton, Mehar Chaudhary and Anushka Roy escorted by Ms Deepika Ojha.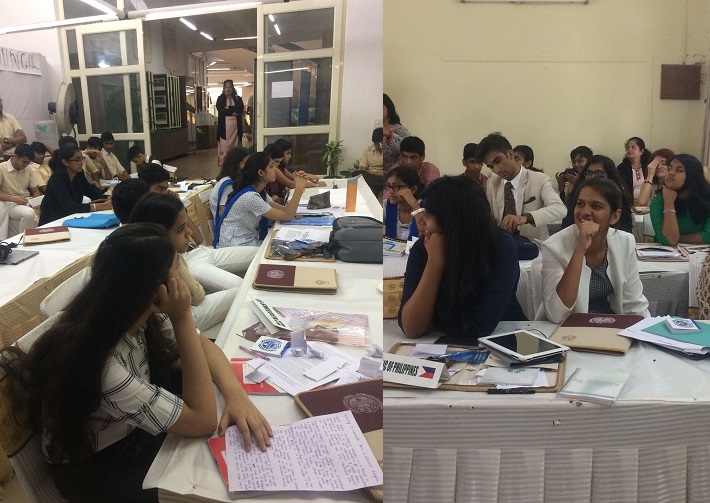 Back